One of the great benefits of operating a nutrition incentive program that works directly with Florida farmers is getting the opportunity to actually visit the farms and the farmers who are growing the fruits and vegetables for SNAP and Fresh Access Bucks customers.
On an early morning in March we got to make one of those visits to a very special farm in a place you wouldn't expect. This visit was also special because the entire FAB team (The FAB 5) was able to attend during a team meet up. We arrived at Meacham Urban Farm only moments after pulling off the interstate exit ramp into downtown Tampa. Tucked up next to a historic church, now in disrepair, and sandwiched between a towering residential building and a sprawling concrete parking lot, Meacham Urban Farms is in an unsuspecting site. Meacham Urban Farm is a high-yielding, bio-intensive farm accessible to the surrounding neighborhoods. Their goal is to inspire community engagement in the local food system, educate, and instill a commitment to organic, healthy, environmentally conscious farming. And they are certainly doing that. Its mere 2 acres are sprawling with edible diversity. Hoop houses filled with tomato vines dripping with ripe fruit, bordered by pollinator gardens; fields of celery, onions, lettuces, kale; and rows of root vegetables. The fence is lined with growing banana groves, their bright green leaves a stark contrast to the pink building on the other side of the fence. The farm itself is a contrast of its surroundings, greenery sprouting up in a concrete jungle, an oasis in an urban setting, growing slowly and intentionally as cars speed by just overhead. The farm is a partnership between Tampa Housing Authority and three first-generation farmers: Travis Malloy of Trail Bale family farm, Joe Dalessio, and Kristin
Beauvois, funded by part of a U.S. Department of Housing and Urban Development Choice Neighborhood Initiative grant intended to enhance Tampa's Encore! neighborhood.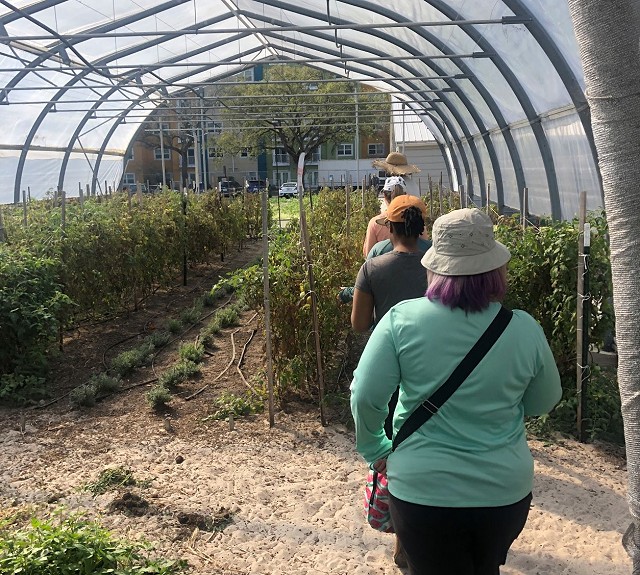 On this day we were coming not only to visit one of our Fresh Access Bucks partners, but also to volunteer on the farm and get our hands dirty. We were greeted by David (aka Farmer Davie), Meacham's farmer/volunteer coordinator/tomato production manager. Meachum hosts volunteers Wednesdays from 8am to 11am and Saturdays 10am to 1pm. Some folks are retired and looking for something to do, others don't have the space to grow a garden at home but they want to get their hands in the soil, and the best volunteers are the kids, learning hands-on where their food comes from.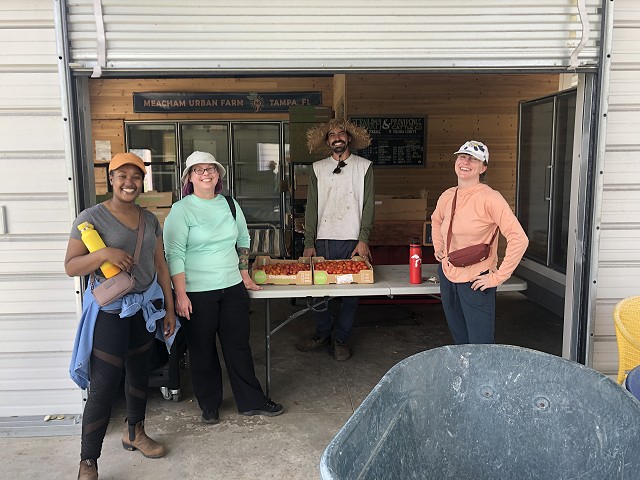 We were first given a tour of the farm, seeing the farm store where customers can shop for fresh fruits and vegetables picked just feet away, or aggregated from other local farms. They can use their SNAP/EBT or P-EBT and Fresh Access Bucks to get FREE fruits and vegetables. The Farm Store is open Saturdays from 9am to 1pm, and Sundays from 10am to 1pm. The farm has a team of employees who we met as they washed and processed veggies under the shade of one of the buildings. Some employees work there for the veggie perks, including the 80 urban farm chickens who gratefully enjoy fresh organic scraps from the farm and in return provide fresh eggs sold in the farm store. Every inch of the farm is well planned out to maximize the amount of food that can be grown while being mindful of nature's design. The farm is still young, only having breaking ground in 2020 but it is already well established thanks to years of planning and preparation.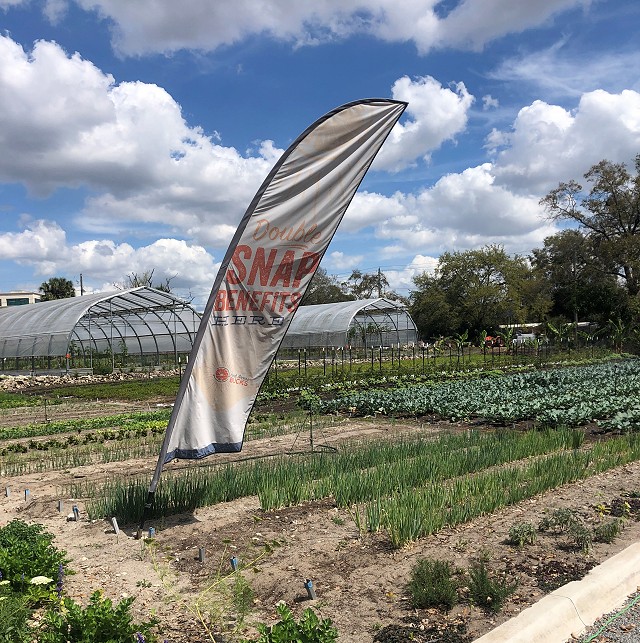 After touring the farm, we got to work. Our first task was harvesting beets. Pulling out each red or golden root felt like a treasure hunt. Some were the size of your palm and some the size of a baby carrot. We chatted about food access and farming as we moved on to weeding the freshly harvested beds, and the neighboring chard.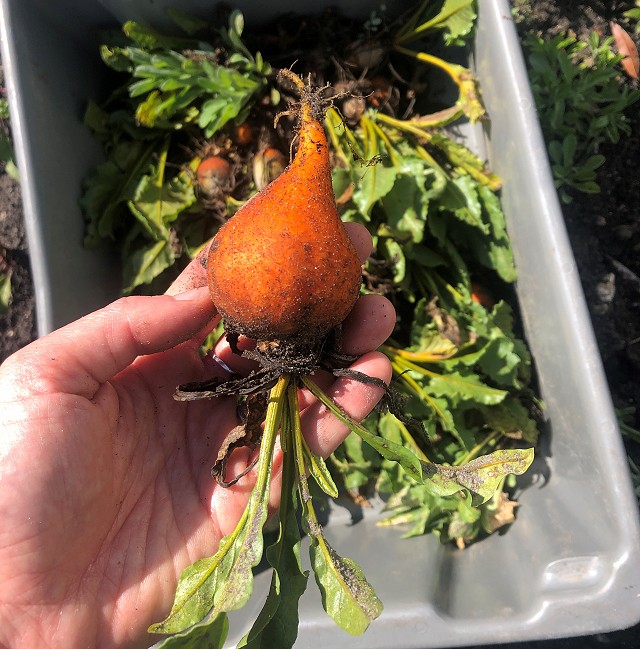 Next was pulling vines from the fence between the banana grove and the neighboring building. We found fun ways to unravel the twisted vines as we took refuge from the sun under the canopy of banana leaves.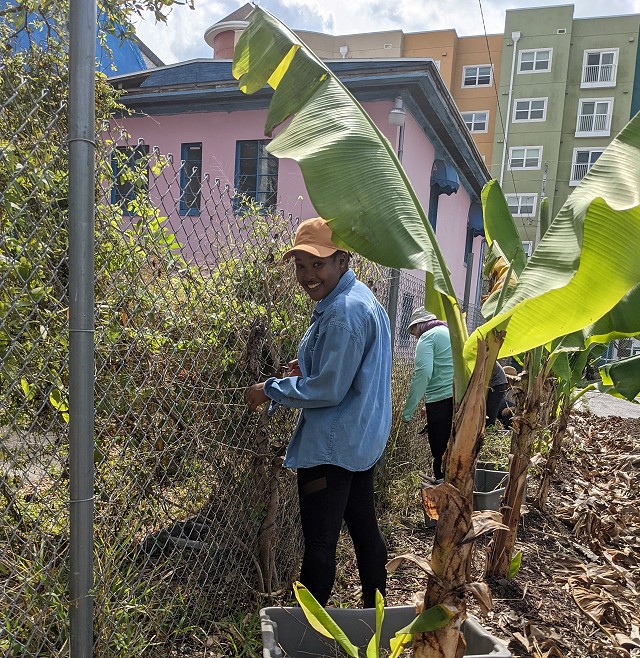 When our work was done, we washed up and enjoyed some delicious ripe tomatoes grown by David and the team. A sweet reward for our morning work. But the true reward is seeing farms like Meacham pouring everything into feeding their communities with fresh and tasty fruits and vegetables, lovingly grown on plots of land that would otherwise sit vacant.
You can get your own vine ripened tomato, or freshly picked beet at Meacham Urban Farm's Farm Store in Ybor City, 1108 E Scott Street Tampa, FL 33602 on Saturdays and Sundays or become a member and get your E-Farm Card to save more and pre-order for pick up. Meacham Urban Farm accepts cash, credit, debit, and SNAP/EBT and you can double your SNAP dollar with the Fresh Access Bucks program to get FREE fruits and vegetables.
For more information visit https://www.meachamfarm.com/ or follow them at @meachamfarm on Facebook and @meachamurbanfarm on Instagram.